Manage your Reminders
No confusing commands to memorize, extremely easy and intuitive to use!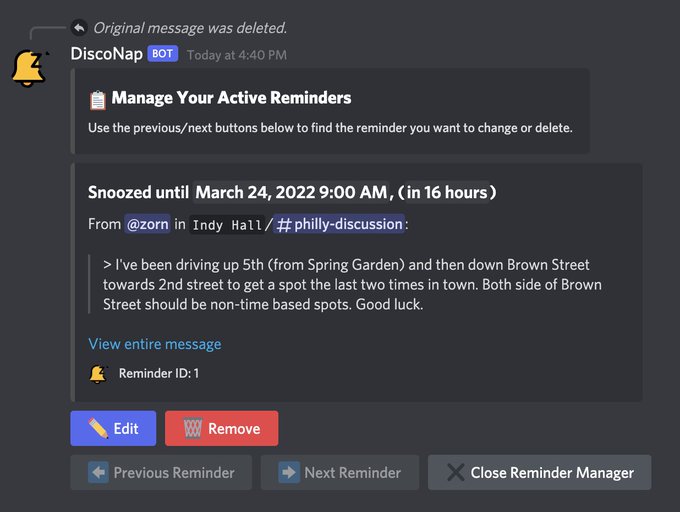 Give DiscoNap 5 stars & a positive comment
"

I used to use the reminder feature in Slack all the time, and missed it when I switched to Discord. DiscoNap is kinda like that, but for Discord, and WAY BETTER!"
When you see a Discord message you want to reply to, but can't respond immediately, do you remember to come back and reply later?
Or are you a normal person who gets distracted and forgets about that message until the embarrassing moment when you realize you forgot to reply at all. 😬
Even when you can remember which channel and server the original message was in, the only way to hold your place in a busy Discord channels is leaving channels marked as unread. Messy & unreliable.
There has to be a better way!
Add the DiscoNap bot to your server and you never leave your friends and community members on "read" again. DiscoNap lets you quickly set a reminder on ANY message in your Discord server, and be reminded about it later via a private DM so you can pick up the conversation.
Once you do reply, mark each reminder as completed with a single click, tidying up your DMs and giving you the satisfaction of staying on top of your favorite Discord channels.
15 Second Installation
Add and authorize bot
Invite URL:

https://disconap.pro/invite

(Recommended)

Via "Add to server" button from the bot's profile on any server DiscoNap is active in
You MUST have
admin
or
server management
permissions to successfully install DiscoNap in your server. If you do not, please contact your server admin.
🔐 
Advanced Setup for severs with custom channel permissions & private channels
If you have any
private channels
, or
channels with custom permissions
, you will need to manually add the
DiscoNap
Role (automatically created during installation) to those channels.
Click the triangle in the top left of this box for details and troubleshooting.
For optimal performance, the DiscoNap role should have all of the following permissions enabled and prioritized above other channel specific permissions: - view channels
- manage emojis and stickers
-create private threads Note: If you installed the DiscoNap bot in your server before 3/17/2022, you may need to manually enable one or more of these roles on the DiscoNap Role for all bot features to work properly in all channels with the role assigned. For help with this process, join the Official Support Server.
How to set a reminder
Option 1: Set a reminder with a Reaction
Works on mobile & desktop, all platforms
React to a message in any channel that the Disconap bot is in using the custom
:snooze:
emoji that looks like the DiscoNap logo.
Check your DMs for a message from Disconap, showing a preview of the reminder. The emoji reaction from the original channel will also clear automatically.
Choose your desired reminder time.
If this is your first time interacting with Disconap, you'll be asked to specify you your time zone. DiscoNap will remember your time zone, and you can update it in the settings menu.
Wait until time passes and get your reminder via DM!
Option 2: Set a reminder with app menu
Right click on message, navigate to
Apps
and then click
Set a Reminder
from the menu
The bot should instantly DM you with a preview of the reminder instantly, and clear the emoji reaction from the original channel
Wait until time passes and get your reminder via DM!
When reminder time comes...
Disconap will remind you about your important message at the specified time you chose, and you can easily click to directly jump to the original message in the server/channel and reply.
And after you reply and the reminder is no longer needed, you can click the "Completed" button on the reminder to grey out the reminder once it's no longer needed.
Available commands
/help
Sends DM with all available SnoozeMesage commannds

/reminders
Shows a list of your reminders.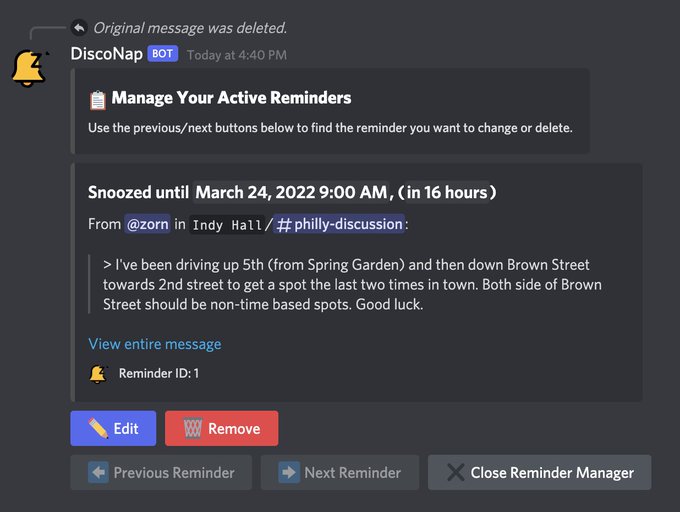 Troubleshooting
DMs from DiscoNap are arriving, but appear to be empty.
You likely have disabled Discord embeds in your user settings.
DiscoNap requires embeds to be enabled.
To re-enable embeds, go to your User settings > Text & Images > Embeds & Link Previews, and ensure that the option Show embeds and preview website links pasted into chat is enabled with a green check.
Licensing and Credits
DiscoNap is in no way affiliated with Discord Inc.

All features, functionality, name, language, and documentation is exclusively owned by DiscoNap LLC.